fossil gastropod pendants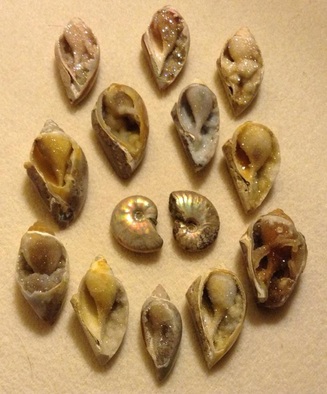 These are fossil gastropods from India which I happily purchased from my gem dealer. The shells, which are 300 million years old, have petrified, turned to stone, and have Druzy quartz crystals which have naturally formed on the fossil. Each are unique, fascinating and completely special. The ones available below I decided to simply string on leather cord with a handmade Sterling Silver hook clasp, so as to let the fossil be the focus. I have two sections of Fossil Gastropods to scroll through: larger ones on leather with Sterling clasps and smaller ones with 14K and 22K Gold.
currently sold out, please check back!