liztech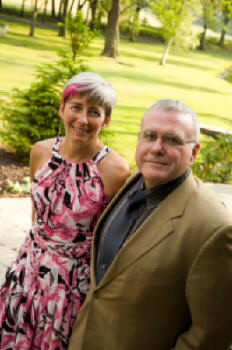 Jill and Scott
Jill Elizabeth remembers the "floor sweeps". Those were the days when the fledgling jewelry designer swept the grimy, liquor bottle-strewn floors of New York City's bead merchants for whatever had fallen to the floor....
Jill Elizabeth doesn't do "floor sweeps" anymore. Now the entrepreneur, who dropped her last name from her professional moniker, buys by the gross from a sprawling warehouse in Providence, RI, "the costume jewelry capital of the US.
The company began in 1984 by recycling old costume jewelry and today has a mailing list of more than 15,500 customers. The Liztech line is all handmade. The pieces are inspired by the American Southwest, Egyptian and Indian mythology.Liztech jewelry is handmade in our artists studio in East Stroudsburg, PA, The jewelry is made using a mirrored chrome laminate. This material will never break, tarnish, crack or shatter! All of the jewelry is wire wrapped and beaded using Swarovski crystals, glass beads and vintage glass stones.
REPAIR POLICY:
"Liztech jewelry has a permanent guarantee. We will fix it or repair it no matter what happens to it...even if your dog chews it"
Liztech is a member of the Pennsylvania Guild of Craftsmen.
Click here to see Liztech Pins
---