Oovoo:
Vietnamese Hand-Embroidered Purses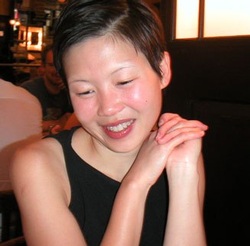 Pauline Lewis
Pauline left the corporate world a number of years ago and traveled back to Asia. She was inspired by the women she met along the way and started to work with Vietnamese women to design and make distinctive women's accessories. She started to work with one Vietnamese designer in particular: Ms. Le Thi Hong Tu, better known as Hong Tu. Hong Tu's designs, combined with Pauline's vision and direction, are the cornerstone of Oovoo™ design.
Thus, Oovoo™ handbags have a unique blend of Asian and Western influences that translate into handcrafted works of art.
The bags are 100% hand-embroidered and carefully crafted. No embroidery machines are involved in making these bags, and therefore no two bags are ever the same.
The manufacturing locations have been carefully chosen to ensure provision of workers' rights in accordance with trade regulations. These beautiful bags are made by people who are well-treated in their work environment.
This alliance between two woman-owned enterprises has grown to support over 600 women in Vietnam with 120 full-time employees in the southern region of Vietnam and 500 part-time embroiders in the North.
Here's what Pauline had to say: "Those closest to me are amused that I am in the handbag business. Prior to oovoo™, I had 3 bags in my closet; all of them plain black. Now, I have an entire warehouse full of bags in brilliant colors and lush textures!

I started oovoo™ because of my love for all things handcrafted and a desire to build a business model based on positive working relationships, especially among women. Almost all my customers and vendors are women – this network creates a full circle of support for the women of Vietnam by the women in the United States, and vice versa.

Many customers ask me if oovoo™ means anything. oovoo™ has it's roots in the word "ovo," which is defined in the Merriam-Webster Online Dictionary as "from the egg," or "from the beginning." This goes back to the circle of women that I work with, which is fully represented in the oovoo™ brand."

Click here to see Vietnamese Hand-Embroidered Purses.

---