style anya:
sparkling bangle bracelet sale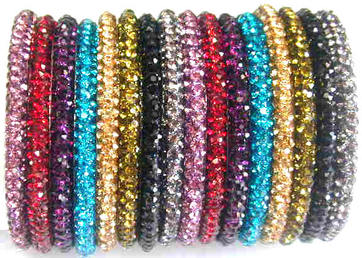 All items in this collection are handcrafted and have been made in the finest Indian tradition, drawing on the heritage of India's craftsmanship and skills. The finest quality crystals are used with lacquer on brass that has been silver-plated. Mix and Match colors for a wonderful look.
The fit is meant to be tight when sliding on, so that once on, it doesn't fall too far down one's wrist/Please specify small or medium, as well as color when ordering.
ON SALE FOR $5.00 EACH All sales final.
Click on any image for the color and amount that are available
Please note: There are two sections to look through. Scroll down to peruse the Medium bracelets options.

small sized bangles:

medium sized bangles:

Click on any image for the color and amount that are available